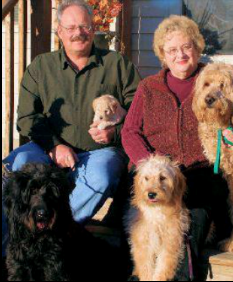 Rosewood Kennel pups are raised in a loving family environment and are fully socialized. We provide plenty of room for our dogs and puppies to romp and interact with them on a daily basis.
We have owned and/or raised Labradors, Golden Retrievers, Springer Spaniels, and Afghan Hounds for 30 years. We are genuine dog lovers and are selective about the homes our puppies go into. We hope that the love and care we show our dogs and puppies will make them happy, healthy and lovable additions to your family too.
We got our Goldendoodle over 14 years ago. When our Golden Retriever died unexpectedly we needed to seek out a more allergy friendly alternative due to our daughter's diagnosis of asthma.  We wanted a large dog with the temperament of a golden and the intelligence of a poodle that DIDN'T shed, and when we found  one we were ecstatic.
Of course, finding a puppy proved to be somewhat daunting. At that time, we found only one breeder in the U.S. After our long wait for a puppy we drove the 9 hours to pick him up. It was love at first sight!
Riley has been the easiest dog we have ever had to train. He learned all of the basic obedience commands in 4 brief lessons over a week. He was housebroken within 2 weeks with a bell on the door. He uses this bell still when we have ignored his quiet stare to let him out!
He is also the most lovable dog we have ever come across. His happiness is to be with us. He loves touch and often comes to simply lay his head on my lap, just to be in contact. This is the reason we decided to raise Goldendoodles. We feel everyone should be able to experience the joy of owning these wonderful creatures, whose only wish is to love and be loved.
Jim and Jana Moeding